Top View – Black Skimmer Stand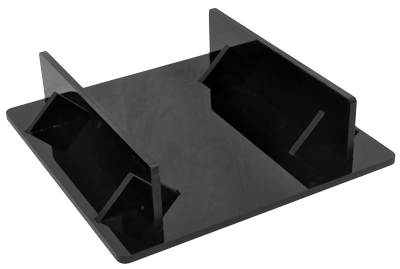 Bottom View – Black Skimmer Stand
Top View – Clear Skimmer Stand
Protein Skimmer Stands
Water depth can significantly affect the performance of the equipment running within your sump. This is why most manufacturers of protein skimmers, fleece filters, and media reactors will specify an optimal operating depth for their units. If the water level in your sump is deeper than that depth while the sump is running then you'll need a protein skimmer stand to raise that equipment up in the water column.
Our protein skimmer stands make an excellent choice for setting your equipment at the proper depth. They feature rugged 1/4′ cast acrylic construction with solid, wide legs and four reinforcement gussets per leg for maximum strength. They are fully Weld-On bonded and glass leveled to insure the most stable platform for your equipment available.
Standard sizes are available from 4″ x 4″ through 10″ x 10″ with heights from 1″ – 4″ in clear or black acrylic. Custom sizes and modifications such as platform holes and custom leg shapes are available upon request.